Sanwo-Olu Meets Finally Meets Artist Bodataiye Oniyakuya To Receive Funny Portrait Of Himself And Pays For The Portrait [Photos]
Babajide Sanwo-Olu, the Lagos State Governor, has finally met up with a Nigerian comedian, Bodataiye to take delivery of a funny portrait he had drawn of him.
The comedian is known for creating funny portraits that serve as an instrument of amusing or mocking artwork of celebrities.
One of the portraits of Bodataiye nabbed the eye of Sanwo-Olu himself after he tagged him in the post. Sanwo Olu expressed his desire to meet the artist and take delivery of the drawing.
Bodataiye wrote: I drew his excellency governor of lagos State @jidesanwoolu ,I thank God for the successful work I think his excellency will love it .I still remain the best artist in UAR .
Sanwo-Olu replied him and wrote ;
Really? So, it's me you drew like this? I'm guessing you'll like to present it to me, abi? Ok, come and present it to me in my office. Hmmmm…
Sanwo Olu was finally able to meet the creators of the portrait as he took delivery of it and thanked them for their service. The governor promised to pay them for their work in creating such a piece of him.

Watch As UNILORIN Student Beats Lecturer To Stupor [Video]
Bennievibez reports that  a 400-level student of the Department of Microbiology, Faculty Of Life Sciences, University of Ilorin, UNILORIN, Kwara State, North central Nigeria, Abdulwaheed Waliu, has been arrested for beating a lecturer on campus.
This online news platform understands that the UNILORIN student who is also known as Captain Walz, reportedly didn't observe the compulsory Students Industrial Work Experience Scheme (SIWES) and sought the lecturer's help.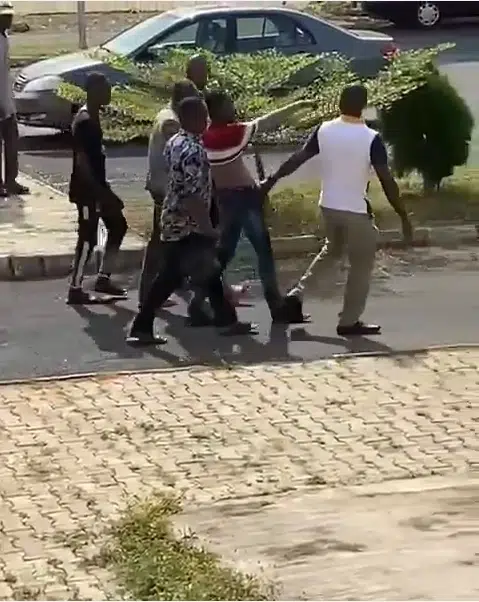 The lecturer identified as Mrs Zakaria is said to be the suspect's supervisor. According to an eyewitness, "He went to her office to seek her help over his issue because he didn't do the SIWES. He entered her office and started banging the table, the woman abused him and he moved closer to the woman and started slapping her.
Bennievibez learned that the lecturer tried to escape and kept calling for help but people didn't hear her. He dragged her outside and started punching her in front of the department's building. Passers-by saw what was happening and he ran but was caught by the school's security personnel. He has been handed over to the police while the lecturer became unconscious for a moment until she was revived."
See the moment UNILORIN student beats lecturer to stupor below…