Reactions As Celestial Members Claim To See Founder Oshoffa, In The Sky |Video
A video of a group of Celestial church members praising and worshipping God after claiming to see their founder, Oshoffa, in the sky has surfaced on social media.
In the viral video, the members could be heard praying loudly and hailing the God of Oshofa as they look into the sky.
"Daddy, come and see Oshoffa, he's in the sky," one person is heard saying in the video.
Joseph Oshoffa was the founder of the Celestial Church of Christ after he reportedly resurrected people from the dead.
According to reports, he founded the church in 1947 after being lost for three months near Porto-Novo in Benin.
Oshoffa was reported to have had 14 wives and 54 children when he died in 1985 although some say these figures are high.
Watch the video below;
See reactions below;
Mariah Angela wrote; Delusions as a result of too much fasting. 
simple250 wrote; 'Hold on to your believe the last day shall tell'
MufasaLion wrote; 'Religion is the opium of the poor and ignorant folks.
RiyadhGoddess wrote; 'Lately there's been strange things in the sky. Some days ago, around 4 pm thereabout, I came out of the house only to see the sun so red like blood. I stood there for minutes wondering what it could be or what was happening. I've never seen that before in my life. Some parts of the sky where the sun was positioned was blood red as in red Blood around the sun. It could be Pa Oshoffa sha, they alone can interprete what they saw but that thing looks like a Dada man holding a rod sha.'
Watch As UNILORIN Student Beats Lecturer To Stupor [Video]
Bennievibez reports that  a 400-level student of the Department of Microbiology, Faculty Of Life Sciences, University of Ilorin, UNILORIN, Kwara State, North central Nigeria, Abdulwaheed Waliu, has been arrested for beating a lecturer on campus.
This online news platform understands that the UNILORIN student who is also known as Captain Walz, reportedly didn't observe the compulsory Students Industrial Work Experience Scheme (SIWES) and sought the lecturer's help.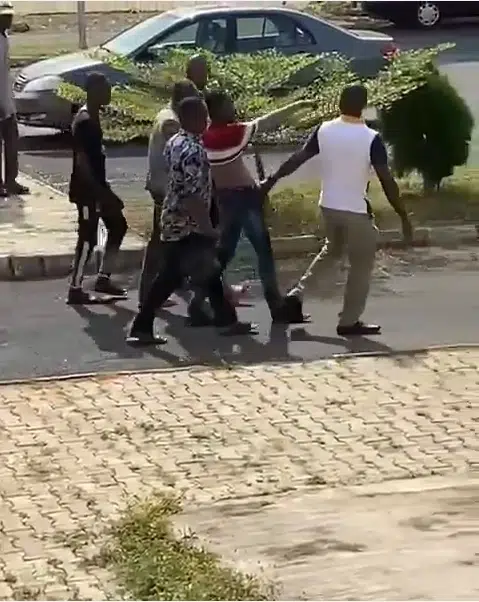 The lecturer identified as Mrs Zakaria is said to be the suspect's supervisor. According to an eyewitness, "He went to her office to seek her help over his issue because he didn't do the SIWES. He entered her office and started banging the table, the woman abused him and he moved closer to the woman and started slapping her.
Bennievibez learned that the lecturer tried to escape and kept calling for help but people didn't hear her. He dragged her outside and started punching her in front of the department's building. Passers-by saw what was happening and he ran but was caught by the school's security personnel. He has been handed over to the police while the lecturer became unconscious for a moment until she was revived."
See the moment UNILORIN student beats lecturer to stupor below…