"Poverty does not mean one must be dirty" – Man says as he shows off his home (Photos)
A Nigerian man has amazed social media users which his shared a contentment and appreciation of the little things in life.
The man identified as Abiodun recently took to Twitter to show off the interior and exterior part of the house and revealed that even though one is poor, that should not be an excused to live in a dirty environment.
His home was beautifully designed with furniture, flowers, toys, and other nice looking items.
Even though the house appeared uncompleted when looking at it from outside, a closer look shoed that the young man did not spare any chances when it comes to making the place as comfortable to live in as possible
Abiodun posted the photos and captioned it;
"Poverty does not mean one must be dirty."
See his post:
Some social media users commented with encouraging words, while others chose to speak on reality.
@Olumide_leke wrote; Trust me, poverty is a thing of the heart. A person is only poor if they think they are.
@FelaReborn; The person used Redmi C15 to snap this pix .. see plasma Tv..3D wall paper.. badass speakers.. teddy bears and toy decos.. mahogany chairs..multicoloured curtains.. industrial rug..healthy plants garden.. This person should just cut soap for us..
@Asuaiprecious1 replied; Oga na lie oooo poverty has not to do with thinking oo me wen dey think of 50 million everyday how many 50 million don enter my account
@ALPHA_0808; This one no be poverty my guy, just average Nigerians tired of there landlord/landlady so soon…
Na prepared meter them even Deh use sef
Watch As UNILORIN Student Beats Lecturer To Stupor [Video]
Bennievibez reports that  a 400-level student of the Department of Microbiology, Faculty Of Life Sciences, University of Ilorin, UNILORIN, Kwara State, North central Nigeria, Abdulwaheed Waliu, has been arrested for beating a lecturer on campus.
This online news platform understands that the UNILORIN student who is also known as Captain Walz, reportedly didn't observe the compulsory Students Industrial Work Experience Scheme (SIWES) and sought the lecturer's help.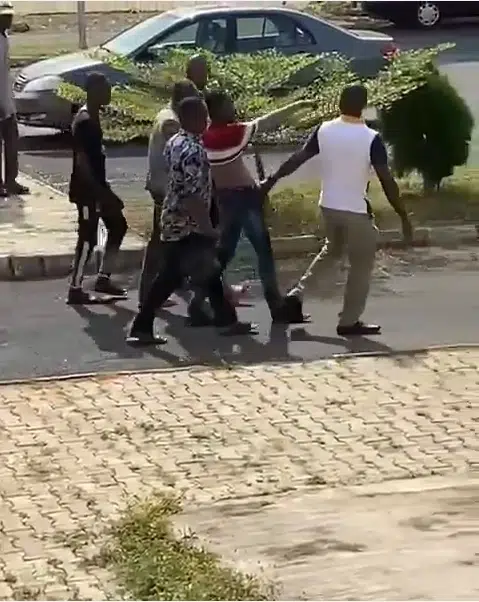 The lecturer identified as Mrs Zakaria is said to be the suspect's supervisor. According to an eyewitness, "He went to her office to seek her help over his issue because he didn't do the SIWES. He entered her office and started banging the table, the woman abused him and he moved closer to the woman and started slapping her.
Bennievibez learned that the lecturer tried to escape and kept calling for help but people didn't hear her. He dragged her outside and started punching her in front of the department's building. Passers-by saw what was happening and he ran but was caught by the school's security personnel. He has been handed over to the police while the lecturer became unconscious for a moment until she was revived."
See the moment UNILORIN student beats lecturer to stupor below…