Man gets his pen*s stuck in the tube after masturbat*ng with it to see if his enlargement procedure had worked (photos)
A man in Thailand got his male member trapped in a tube following an enlargement procedure.

The man in his 20s rammed his manhood into a one-inch wide grey PVC tube used in kitchen sinks while pleasuring himself at his home in Bangkok.

The freak accident comes after he paid for penis enlargement injections so he wanted to test if the enlargement had worked using the tube he normally used to pleasure himself.
Well, the enlargement procedure was a success, but the man's penis got stuck in the tube and began to rapidly swell.
The man had to call medics to help him out but when they arrived at his apartment on October 13 they said they could not cut away the pipe.
In the hospital, they had to call volunteer firemen who used pliers, a circular cutter, and a tube of lubricating gel to begin freeing the man's shaft.

They had to insert a protective sheet in between the pipe and the penis to keep the pliers from cutting into the man's flesh.

The incident happened on the 13th of October according to Thai media reports.

The man, who has not been named in order to protect his privacy, is said to have told them he 'wouldn't have had this problem' if he hadn't undergone the enlargement procedure.
'I'm annoyed because I spent a lot of money on that, and now I'll have to pay for the medical bills as well,' he added.

A rescue team member said that apart from its size, the man's penis swelled every time it was touched, which made the pipe removal more difficult. After the grueling ordeal, the team finally managed to break the plastic object. 
Watch As UNILORIN Student Beats Lecturer To Stupor [Video]
Bennievibez reports that  a 400-level student of the Department of Microbiology, Faculty Of Life Sciences, University of Ilorin, UNILORIN, Kwara State, North central Nigeria, Abdulwaheed Waliu, has been arrested for beating a lecturer on campus.
This online news platform understands that the UNILORIN student who is also known as Captain Walz, reportedly didn't observe the compulsory Students Industrial Work Experience Scheme (SIWES) and sought the lecturer's help.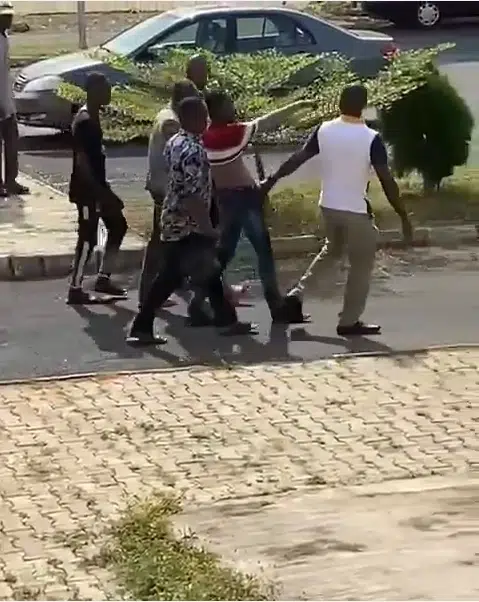 The lecturer identified as Mrs Zakaria is said to be the suspect's supervisor. According to an eyewitness, "He went to her office to seek her help over his issue because he didn't do the SIWES. He entered her office and started banging the table, the woman abused him and he moved closer to the woman and started slapping her.
Bennievibez learned that the lecturer tried to escape and kept calling for help but people didn't hear her. He dragged her outside and started punching her in front of the department's building. Passers-by saw what was happening and he ran but was caught by the school's security personnel. He has been handed over to the police while the lecturer became unconscious for a moment until she was revived."
See the moment UNILORIN student beats lecturer to stupor below…