"I'm a man sent by God to liberate his people" – Actor Yul Edochie declares himself as Godsent to Nigerians
Popular Nollywood actor, Yul Edochie has stated that God has sent him to Nigeria to liberate His people.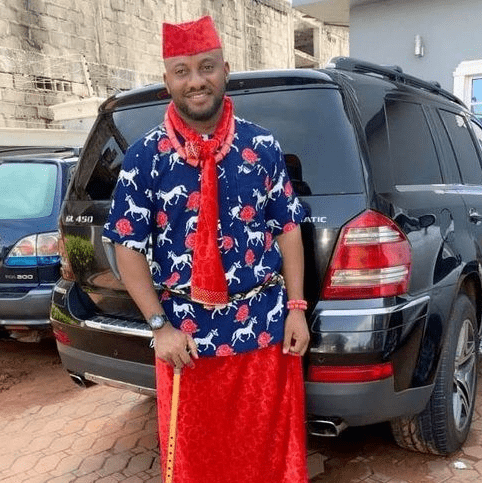 The actor took to his Instagram account to ask a rhetorical question on the point of running away from our father's land, Nigeria in a bid for greener pastures when it is certain that death awaits everyone.
He, however, revealed that God sent him to liberate his people, hence, his decision never to run from Nigeria.
Here's what he posted;
"Jakpa is not the answer. Yes, no one wants to lose his life but truth is, we'll all die someday, all of us. So what's the point of running? I'm a man sent by God to liberate his people. I will not run from my fatherland. We must get it right. My plan B is 'NO LEAVE NO TRANSFER'."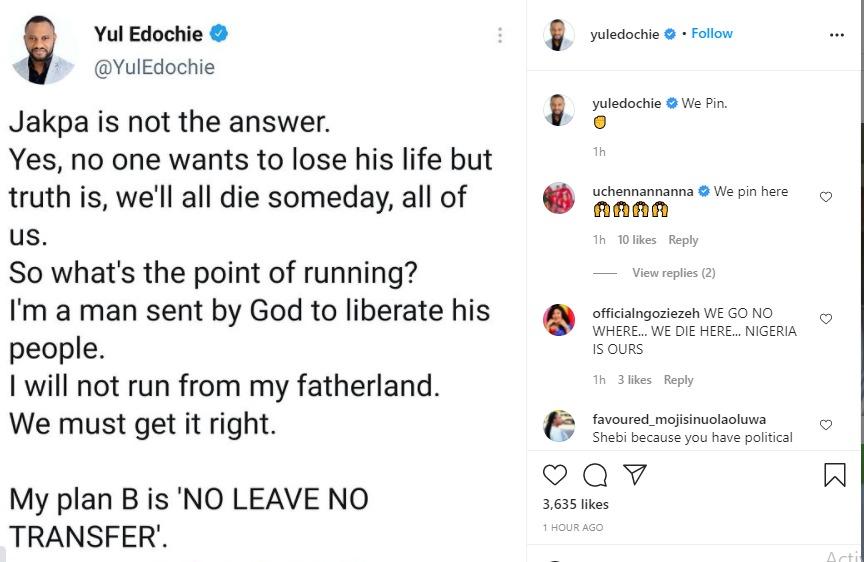 Well, his tweet comes after Pastor Paul Adefarasin, the head of the House on the Rock Church, advised members of the church to have a "plan B" to flee the county amid rising insecurity in different parts of Nigeria.
Finally, Synagogue Church Announces Reopening Date
The Synagogue Church Of All Nations (SCOAN) has made known its reopening to all its members after 21 months of closure.
The church founded by late Prophet TB Joshua, on Friday revealed that it will on Sunday, December 5, 2021, reopen for live service.
The church added that its gate will be open for its global members who have called for live service to commence in the church.
Read Also Court Awards N52 Million To Nnamdi Kanu's Lawyer, See Why
The late founder of the church had in March 2020 suspended the regular Sunday service in the church due to the Coronavirus outbreak across the world.
TB Joshua till his death on June 5, 2021, did not commence service in the church, as he said, he was yet to hear from God.
"We will only reopen when we receive an instruction to do so from God," he had said.
SCOAN, however, in a statement on Friday said, "There has been a lot of pressure from members globally for the church to resume services after the passing of the great man of God.
"But the church's new leadership under Prophetess Mrs Evelyn TB Joshua maintained the position of her late husband that "the reopening of the church for normal Sunday services will only commence with the intimation of the holy spirit".
"And that is what is now taking place. Besides, the mourning period of God's General would have been over.
"The SCOAN has had its own fair shares of the usual leadership and succession tussles in human affairs, an avoidable situation especially in The SCOAN but for the misguided few disciples, all of whom have now retraced their wrong steps.
"A strong church member, Mr Babs Olorunwa, on the reopening said the church today has been thoroughly reorganized for better performance.
"The hand of God remains very strong upon this church with the few prayer gatherings I witnessed on the church mountain.
"I tell you categorically, God would never forsake His own. Synagogue Church Of All Nations is alive. Glory be to Go.
"The church resumption now is a response to the call of the Holy Spirit that the services begin as a manifestation of God's anointing towards the glorification of His Mighty Name at this blessed, festive season."