"He kept his word" – Lady jubilates as boyfriend who promised her marriage 4 years ago engages her
A beautiful South African lady by the name of Themby Smith, has taken to Twitter to express her joy as her boyfriend of 4 years finally engaged her.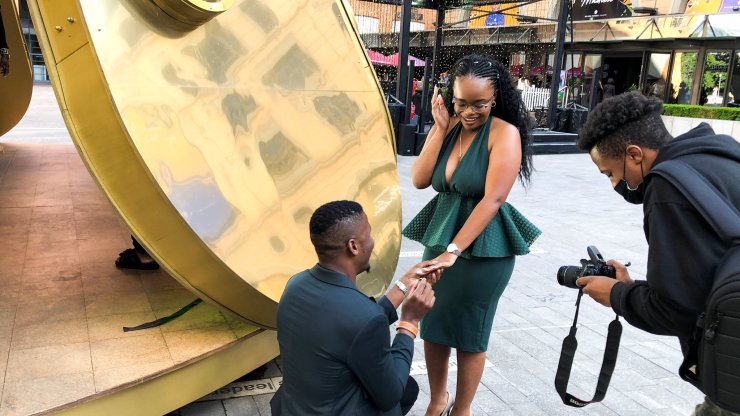 The excited lady who took to the micro-blogging platform to post pictures from her engagement revealed that her man, Prince, had vowed to marry her a month after they started dating.
She also shared screenshots of an old chat from 2018 where he promised to marry her and said he will never leave her.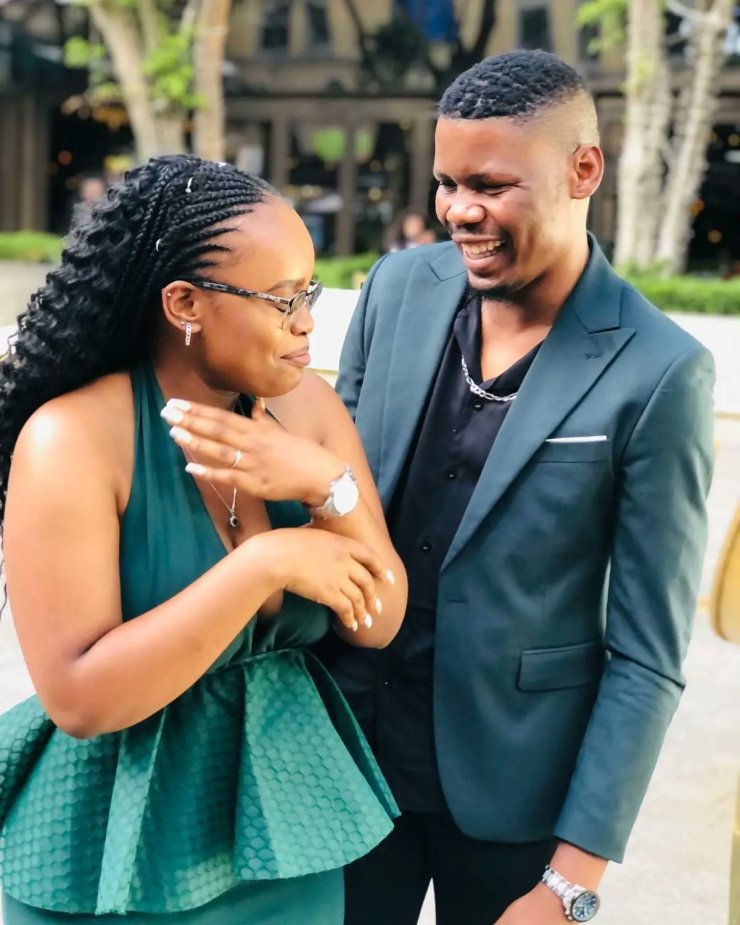 Sharing the photos Themby Smith thanked her lover for fulfilling his promise to her.
"He kept his Word. First frame was only a month in our relationship. Today he kept his promise", she wrote.
See her post below,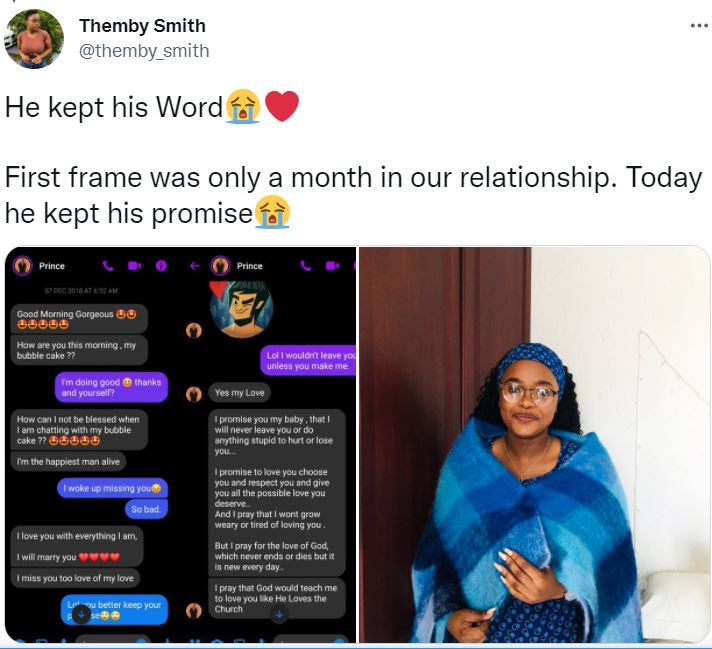 See screenshot of their chat below,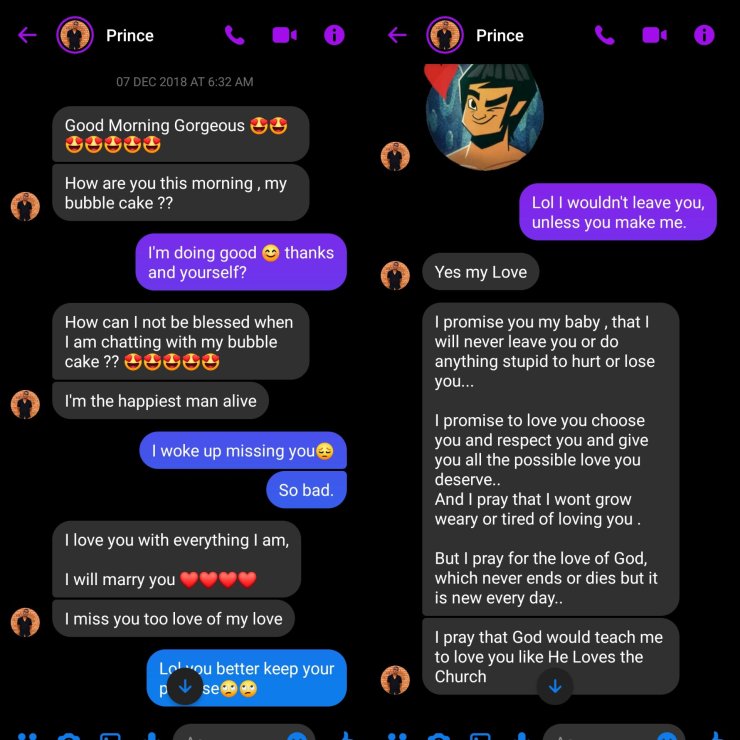 In related news, a viral video has got Nigerians blushing after a Nigerian man was seen proposing to his girlfriend while onboard an international flight.
In the video, he requested the attention of the rest of the passengers and told them he would love to ask someone special and dear to him a very important question with the hopes that her answer would be in the affirmative.
The unidentified man who was given a chance to address the passengers by one of the air hostesses, revealed that he has been dating his woman for 5 years.
After his speech in which he expressed his immense love for her, the man walked towards her and went on a bended knee to proposed to his girlfriend known as Kemi.
Overwhelmed with Joy, Kemi expressed surprise and gave him a 'yes', after which he slid the ring on her finger and they hugged passionately. Watch video here.
Lady Shares Hilarious Experience At Mummy G.O Church in Lagos
Lady Shares Hilarious Experience At Mummy G.O Church in Lagos
A lady has transmitted the story of her experience after she paid a visit to Mummy G.O's church, a controversial preacher, who has become a social media sensation, with means of her hilarious and sometimes shocking claims about hellfire.
In a thread, the lady, who goes by the handle @burnt dodo on Twitter, described her ordeal. The following is the whole gist:
"I woke up early to visit this church. Asides from the fact that 'Mummy G.O' is an online sensation, her church was not very far, and shockingly, her son was an acquaintance. So you can imagine the determination. It was quite comical.
"To be honest, I was stunned by the size of the church. Expected it to be a tiny building. Wrong oh. It was very wide and a small building by the side was for the children's church. As I parked and tried stepping into the building, I was stopped. Ghen ghen!
"I forgot to remove my bling. I begged her to help me take it off, and she seemed pleased. She told me how she expected me to argue as many did. Ma'am, I came for a cruise. Take it off.
"Then I noticed this at the entrance. In this type of situation, you have to comply, you don't need any drama. My scarf slid up, and she sighted my earrings. She called me back. She helped me take those off too. I was just very calm, and I kept smiling at her. I was here for mummy.
"I entered and found a suitable place to sit. I was right on time. It was Sunday school. I noticed something, they were so keen on the preaching of 'End Times'. I surveyed the crowd. Well, it was a small crowd. Men on one side, women one side. Youths were so few, and I wasn't surprised.
"It was full of way older people and more women than men. The choir is in dark purple attire. Fashion was missing, nobody cared about how to mix and match attires. Well, we are in end times. I was patiently waiting for mummy G.O to turn up. I was called again by the woman outside. Nawa.
"Aunty e jor, e pa phone yin" (Aunty please turn off your phone). Then she pointed to a banner outside that asked for phones to be turned off during service. Nawa. No videos for you people. I didn't want drama. So I turned it off and went back into the church.
"Sunday school was over and mummy G. O was yet to be seen. Ah, she better turn up for us. The lady beside me was staring, and I caught her gaze. "Are you a new member?" She asked with a grin. My suspicion arose. She must be one of us. "Yes," I answered. "Me too. Who invited you?"
"I was starting to wonder who sent the lady to me. "I came on my own." The lady didn't seem convinced. She had a purple cloth tied around her waist. I knew it was the lady outside who did that. Aunty's gown was too short.
"It's a lie. You were sent here." I was just confused.
"Then she revealed to me that she was a journalist.
"So no be only me come here to get a story. I told her I wasn't a journalist but just a girl that liked to catch cruises. I could tell she had her doubts. Then I looked around again. I began to realize some things were off.
"Some of the few youths were not true members. I could tell. Like the young journalist had her feet painted, a lady in the other row wore slightly high heels, a young guy in the male row had his eyes darting here and there. I knew I wasn't alone in this. We were quite a number.
"Mummy G.O was still nowhere to be found.
"I was getting worried. Where's my mother in the lord? Where's my mummy that has dined with Lucifer? I started to miss her. Miss a woman I'd never met. It was emotional.
"Then a lady mounted the pulpit. It was not my mummy, G.O. It was as though my heart got broken all again. I decided to stay calm. Mind you, I was hiding my fixed nails and tattoo near my wrist. I didn't want to be the center of attention. A lady walked in with a beautiful gown.
"Well, still not mummy G.O but I knew she wasn't a member and was one of us. The preaching was about God giving insight and demystifying. To be honest, it was nothing of the extraordinary. I was yearning for the 'Luzifa' talks and how wearing Vneck was a tool of antichrists.
"Where is my mummy G.O. I knew she was around? I mean, she was the owner of the church. But I knew something was off. Why wasn't she preaching? I had so many thoughts. Then I began to doze off. I tried to concentrate on the preaching, but it was that of mummy G.O I wanted.
"Then it was time to pray, and I was still seated. There's this trick I do. I sit and sleep, but my lips move as though I'm praying. Well, the preacher walked all the way from the pulpit and tapped me. "Sister, we don't sit and pray in this church. Please stand." Omo! Why naaaaa!!!"