Do These People Have Parents At All? Reactions As BBNaija Star, Nengi Puts Her Butts On Display In South Africa
A video of former Big Brother housemate, Rebecca Nengi Hampson flaunting glaringly her butt, while her colleague, Cross flirts and cheer has sparked outrage on social media.
Bennievibez understands that some ex-Big Brother Naija stars were seen enjoying themselves and networking in an all-white party put together by Play House South Africa.
Amongst Big Brother Naija stars who were pictured at the all-white party is, Cross, Liquorose, Nengi with Kim Oprah.
In the video that has gone viral, Cross was seen flirting with the beautiful housemate, Nengi, who in turn responded by putting up her butt on display.
The video has generated a lot of reactions from social media users who expressed disappointment at how shameless most of the Big Brother stars have become.
Some questioned if these reality stars have someone they are accountable to, while others hailed her for being loud with her 'banging body' .
See photos below;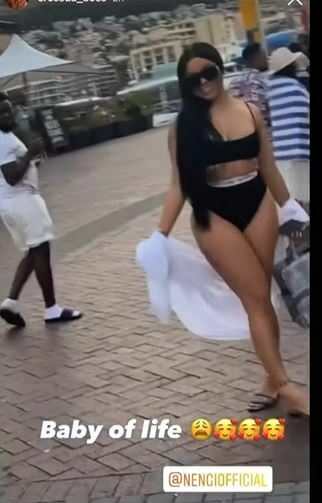 Reacting to the video, one Instagram user, identified as Temidayo ogedengbe wrote; 'Do these people have parents at all?
Do they have people they are responsible and accountable to? This is a girl that was appointed as a Senior Special Adviser to the governor of her state. It is well!'
Another Instagram user named zehio594 wrote; 'After this nonsense, she go gather young girls frm her state to give inspirational or motivational talk abi? So sadddddd!!!!!!!!'
Cross was the third runner in the just concluded Shine Ya Eye season six while Nengi is the second runner up in the Lockdown season 6.
"He collect my gee's babe ni ooo" – Viral singer, Portable accused of snatching a man's girlfriend in Kenya (Videos)
It's being gathered that viral Nigerian singer, Portable, who got into the city of Nairobi, Kenya lately, allegedly snatched another man's girlfriend in the city.
The singer who has been posting updates of his visit on his social media space, flaunting himself hanging out with a couple of ladies in the residence he lodged in in the city.
Portable's video has wowed a number of his fans as they ponder on how the price of fame has changed his lifestyle and now he's able to bamba and chill with the big boys.
However, it's been alleged that one of the ladies that was spotted with the singer in his lodge, is the girlfriend of another man from whom the singer allegedly snatched her from.
The friend of the boyfriend whose babe was snatched reached out to a publication, reporting the case and alleging that the singer has caused "wahala" in the city of Nairobi.
Watch a couple of videos the singer made with the ladies he was chilling with,
click to watch the video: 
"He collect my gee babe ni ooo" – Viral singer, Portable accused of snatching a man's girlfriend in Kenya (Videos)— BNVBlog.com (@Bennievibez) January 22, 2022