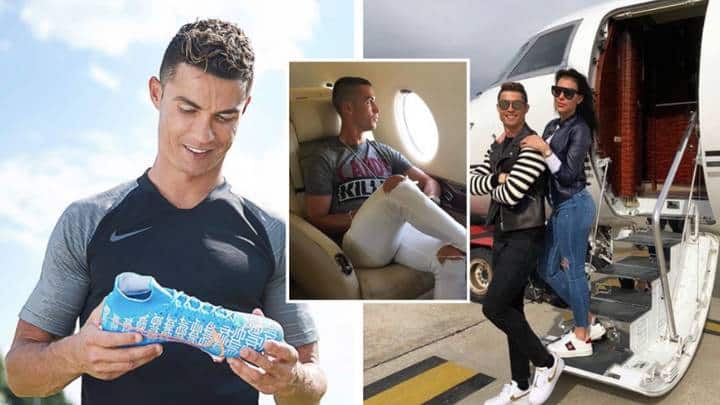 Portuguese/Juventus striker Cristiano Ronaldo has officially joined the billionaire club alongside fellow sporting greats Floyd Mayweather and Tiger Woods, making him football's first ever ten-figure player.
The 35-year-old, who was named the highest-paid footballer on the planet in 2020, according to Forbes, is also the highest-earning athlete in lockdown after making nearly £1.9 million through Instagram alone.
With a total of 429.3 million followers across all social media platforms, as well as his $65 million annual salary and bonus at present club Juventus, Ronaldo remains one of the best paid athletes in sport.
And now, according to The Sun, the former Manchester United and Real Madrid forward has become football's first billionaire ahead of rival Lionel Messi, who is also expected to reach the milestone next year.
Ronaldo raked in $105 million overall for 2020, which included $45 million from Nike, Altice, Herbalife and his own CR7 brand, and made $1 million more than long-time rival Lionel Messi, who collected $32 million from endorsements and $72 million from salary/winnings.
But notwithstanding those insane numbers, CR7 was pipped to the top spot by another sporting great.
Roger Federer, a 20-time Grand Slam winner, claimed top spot in the latest Forbes list for the first time ever with a whopping $106.3 million earned.
Neymar, LeBron James, Stephen Curry, Kevin Durant, Tiger Woods, Kirk Cousins and Carson Wentz make up the top ten as Tyson Fury, Lewis Hamilton, Conor McGregor and Anthony Joshua also managed a place in the list.
Forbes' top 20 highest-paid male athletes in the world for 2020 were as followed:
1. Roger Federer (Tennis) – $106.3m
2. Cristiano Ronaldo (Football) – $105m
3. Lionel Messi (Football) – $104m
4. Neymar (Football) – $95.5m
5. LeBron James (Basketball) – $88.2m
6. Stephen Curry (Basketball) – $74.4m
7. Kevin Durant (Basketball) – $63.9m
8. Tiger Woods (Golf) – $62.3m
9. Kirk Cousins (American football) – $60.5m
10. Carson Wentz (American football) – $59.1m
11. Tyson Fury (Boxing) – $57m
11. Russell Westbrook (Basketball) – $57m
13. Lewis Hamilton (Racing driver) – $54m
14. Rory McIlroy (Golf) – $52m
15. Jared Goff (American football) – $49m
16. Conor McGregor (MMA) – $48m
17. James Harden (Basketball) – $47.8m
18. Giannis Antetokounmpo (Basketball) – $47.6m
19. Anthony Joshua (Boxing) – $47m
20. Deontay Wilder (Boxing) – $46.5m
Plugin Install : Subscribe Push Notification need OneSignal plugin to be installed.